About a month ago I stopped by West Elm to look around and I fell in love with the  Antique Silver Gallery Frames. I came very close to buying one until I was inspired to try to make my own.
I remembered that I had a bunch of pictures sitting in my garage that I was planning to sell on Craigslist or bring to a consignment shop. I also have several faux linen panels from our last home that have been sitting in a closet.  You can really customize this project with the frame size, picture size opening and even the fabric.
Here is how I transformed the frame:
1. I took the picture apart by tearing the paper off the back and then removing the picture that was inside. The glass was really secured to the frame so I left it in place.
2. Taped off the glass.
3. Applied Rub and Buff (in Silver Leaf) to the  frame and buffed it out to shine with a soft cloth. I found it buffed out nicer when working in small sections.
How to create the matting:
1. I used the cardboard that was inside the picture and traced around it onto a piece of poster board.
2. I took a matting from another picture to trace the opening onto the poster board. For me it was easier than having to measure.
3. Cut out the opening.
4. Lay the poster board cut out onto a  piece of fabric that will be used to complete the matting.
5. Trace and then cut out slightly smaller than the actual size of the opening.
6. Cut small slits to the corners and then hot glue around to secure to the poster board.
7. Add your favorite print or photo and you're done!
Linking up with: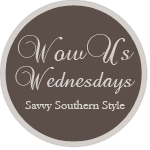 Featured: